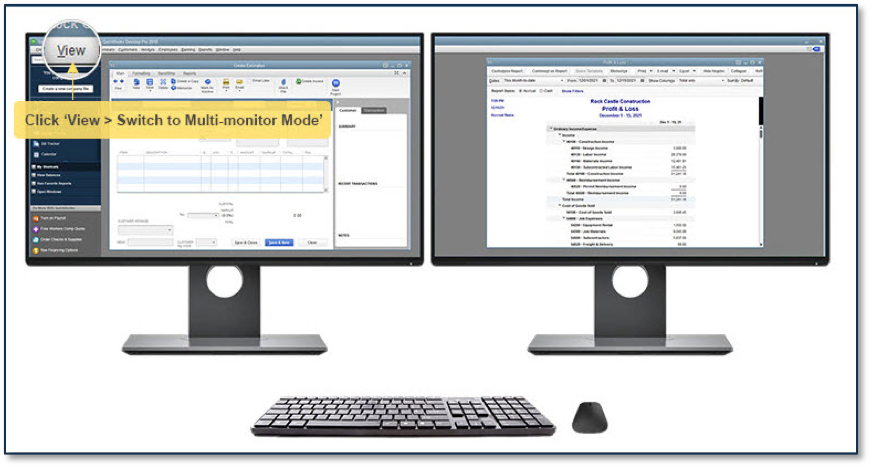 QuickBooks Desktop 2018-Changes for Nonprofits & Churches
Intuit has recently announced the latest improvements in their QuickBooks Desktop version. Though they have made some improvements I really like, none of them are so crucial that your small nonprofit or church needs to upgrade if you purchased in the last three years.
Unless, the new features will help your specific workflow and save you time. My favorite of the improvements is the Multi-Monitor Support! Between my writing, accounting, email, and social media time wasting, I love to work between two (okay, actually three monitors). And trust me, if you spend a lot of time at your computer and can afford a second monitor, you will love it.
With QuickBooks multi-monitor option, you can pull windows from QuickBooks onto a second or even third monitor to make bouncing between reports, invoicing, customer accounts, etc. so much easier!
The next handiest improvement is the Search Function for the Chart of Accounts. A new search box at the top of the Chart of Accounts list allows you to quickly find that account you were looking for without the tedious scrolling.
Other improvements include the Payroll Liability Payment Reminder, which reminds you of any upcoming payroll liability payments, a Past Due Stamp on Invoices, Copy-Line and Paste-Line Keyboard Shortcuts, a Cash/Accrual Toggle on Reports, which is handy when you are running both cash-flow vs management reports, and Updated Email Security options.
 Additionally there are some sales order fulfillment improvements and inventory reporting.
So, if the time-saving features help your organization, by all means, get the new system. And you know I recommend reading my books to be certain you set it up correctly. 
I've also launched an online school to help set up QuickBooks in a small nonprofit or church. Go to www.NonprofitAccountingClasses.com for more information.
---