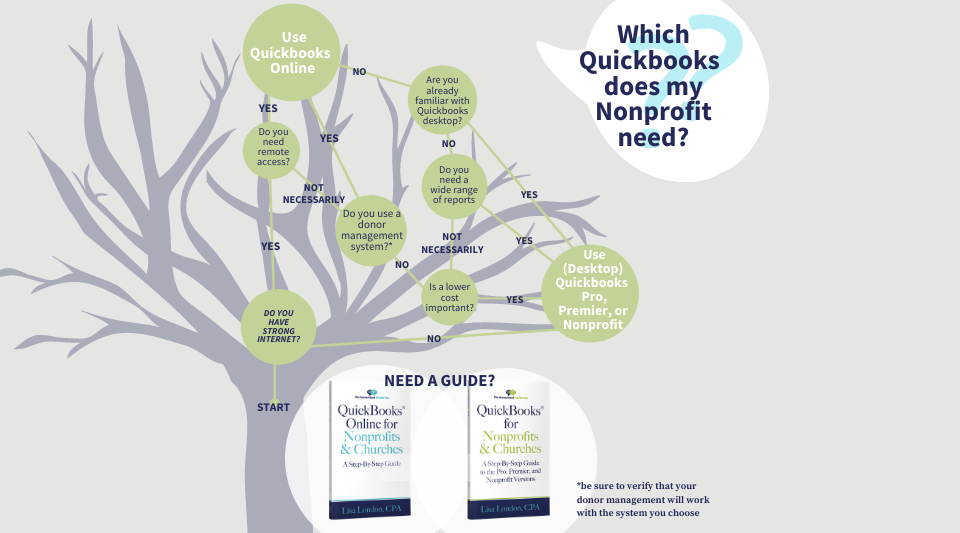 Which is Better for a Small Nonprofit or Church: QuickBooks Online or Desktop?
QuickBooks® Online or desktop? How are you to know which version would work best for your small nonprofit or church's specific needs?
(Updated 1/25/21)
Both QuickBooks Online and the desktop versions (Pro, Premier, and Nonprofit) are geared towards businesses, not nonprofits. (The Nonprofit desktop version has a few minor tweaks, including some specific reports and the ability to change customers' names to Donors or Members, but is still a business product.) Both QuickBooks Online and the desktop version require extra steps to track grants, funds, and programs, but they are popular with the not-for-profit world because they are low-cost and relatively intuitive. Therefore, I'd like to explore the differences between these programs; not compare them to other nonprofit accounting options.
Let's start with the advantages of QuickBooks Online:
The most significant advantage the online version has is the convenience factor.
You can log into your accounting system anywhere you have internet access.
QuickBooks Online also has a mobile app so you can work from your phone or tablet.
No more worrying about backing up, updating your system, or working in the file at the same time as someone else in the office.
Bank accounts are updated continually, and reports can be scheduled for automatic mailings.
The Executive Director or Pastor can pull up reports from the road or their homes while the bookkeeper is working in the office.
The volunteer treasurer can review data in the evenings instead of having to take time off work during the day.
Convenience is the primary reason why the online version has become so popular.
There are thousands of Apps to help save time with QuickBooks Online.
If you are using a donor management system or online donations processor, a compatible app will save loads of time sharing the information with QuickBooks.
The Quickbooks Pro, Premier, and Nonprofit versions also has some apps, but nowhere near the number.
Research to see which program your donor management system is most compatible with.
QBO makes it easier to transfer data to your accountant.
Each subscription of QBO comes with two complimentary accountant users.
Your CPA or offsite accountant can log into your system and make changes directly into your files.
To transfer the data in the desktop version, you have to send them a backup file or a special "Accountant's copy" file.
Intuit, the company that makes QuickBooks, dedicates more resources to the online program.
But even if it can't compete with the convenience, QuickBooks Premier has some substantial advantages over the online version.
1.The reporting capabilities are substantially better.
Keep in mind QBO is being revised regularly, and the reporting has improved over the last few years, but the desktop version still has much more robust capabilities.
Nonprofits who are tracking mission trips or have member accounts that need to track both money raised and related expenses should be aware you cannot record in QBO the transactions as discussed in my blog post, http://accountantbesideyou.com/blog/mission-trips-tracking-members-accounts/. Instead, they will need to use a separate worksheet.
 2.Tracking restricted cash is more manageable in the desktop version.
In QuickBooks for Nonprofit & Churches-A Step-by-Step Guide to the Pro, Premier, and Nonprofit Versions, I explain how to set up a report that will allow you to differentiate the restricted versus unrestricted cash even if an organization only has one bank account.
You cannot run the same report in in the online version, but will need to export data to a spreadsheet to manipulate. You can still get to the same information in quickbooks online, but it will take more steps.
3. Overtime, the Pro, Premier, and Nonprofit Versions are usually less expensive.
If you are an eligible organization, www.TechSoup.org is a website that allows you to purchase either QuickBooks Premier Nonprofit or QuickBooks Online for a fraction of their suggested retail costs.
If your organization is not eligible for the discounted price, the desktop version is substantially cheaper than the online version over three-years.
Please note: readers tell me the Intuit QBO salespeople will say the cheaper Simple Start option will work for a church or nonprofit, but they do not realize you need the class tracking that is only an option in the more expensive Plus version.
4.The desktop version does not require internet access to be functional.
If you work in an area with slow or irregular internet service, QBO will be very frustrating.
If you do NOT have strong internet, do NOT use the Online version.
5.QuickBooks Premier has a more intuitive feel for most people.
QBO is getting there, but Intuit has been making the desktop version more user friendly for years.
The intuitiveness is why it is the top-selling accounting program.
Conclusion: So which version should your organization use?
Check out the decision tree:
If the convenience of the automated and remote capabilities outweighs the more limited reporting, try QBO. QuickBooks Online for Nonprofits & Churches-A Step-by-Step Guide will give you the details you need to get started.
If you have slow internet, lots of mission trips, or specialized reporting needs, you'll probably want to stick with the desktop version. QuickBooks for Nonprofits & Churches -A Step-by-Step Guide to the Pro, Premier, and Nonprofit Versions will help.  Both books have hundreds of screenshots to detailed steps to assist you in setting up your accounting system.
Be sure to also read my blog post titled Five Crucial Elements for a Strong Nonprofit Accounting System.
---